Photoshop Astronomy Book Review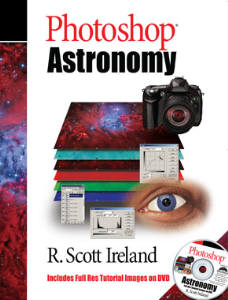 Photoshop can be a hard program to get used to when it comes to preparing your astronomy images. Plus there are so many shortcuts and 'black box' type actions that imagers must use to make the kind of 'woweee' type images. But where do you learn all the tips and tricks, there certainly are not many training courses (though the Ian King ones are good!) there are no DVDs, and hardly any books on the subject. But at last there is a book on using Photoshop for Astronomy.
The book begins by looking at the digital darkroom, and everything you have in it. This includes your monitor and how to colour calibrate it, external hard drives and photo printers and accessories. There is also a section describing the details of the various digital image file formats. At the end of this chapter there is a simple recommended image processing workflow.
Chapter Two covers colour management, and how to calibrate your monitor and your printer, soft proofing, and it covers the various colour models – such as RGB, CMYK and HSB.
Photoshop Astronomy is an amazingly detailed book on how to manipulate your astronomy images to get the best out of them. Each step is shown in great detail.
The only downside to the book is that none of the images are in colour, only black and white. When you are paying nearly £50 for the book new, you would have thought we could have had some colour images and screenshots.
A CD accompanies the Photoshop Astronomy book which includes lots of different images to work on in order to hone your imaging skills. The CD contains example images from Chapter 2 to Chapter 12. The author has also included the final images on the CD, so you can see how they should or could look once completed.
My copy of Photoshop Astronomy was purchased from SCS Astro