Practical Astronomy Book Review
Posted on:
March 9, 2010
/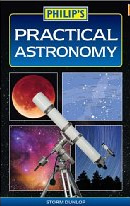 Practical Astronomy is a straight forward guide to the hobby of astronomy. If you are a beginner to astronomy then this is a perfect book to pick up and read.
The book begins by introducing you to astronomy and teaching you the night's sky and how to guide yourself about.  There is also a chapter on choosing the right astronomy equipment for you, including information on various telescope types. Practical astronomy ends the first section entitled "Introducing Astronomy" by advising you on how to record your observations via cameras and web cams. This section of the book also contains a section containing star charts.
The second part of Practical Astronomy works through "Exploring the Sky" and the book gives a chapter to viewing the moon, sun, observing planets, outer planets, the stars and deep sky objects.
Each chapter takes you through each type of object with full colour images, tables and diagrams.  This type of book is perfect for the beginner as it gives the reader an insight into the hobby of astronomy as most areas of amateur astronomy are covered. There are also star charts and moon maps included as well as a small glossary and resources list.