Building and Using Binoscopes Book Review
Posted on:
April 25, 2016
/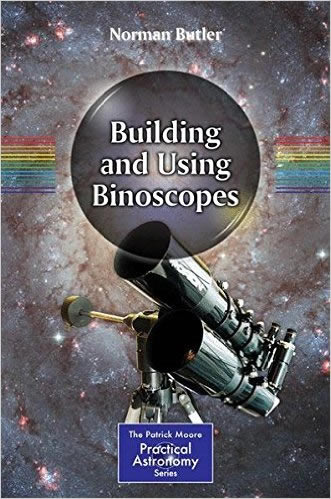 This is a book review of Building and using Binoscopes by Norman Butler. If you love observing the heavens and have ever tried using a binoviewer then you will know how building a binoscope would be the next logical step.
Binoviewers are binocular type contraptions that fit into your telescope viewer and provide you with two eyepieces to look through just like a pair of binoculars. The only downside to using binoviewers is that you need to purchase 2 of every eyepiece and make sure they match. But the upside is that the viewing is a lot more comfortable, you can open both eyes and doing so gives the heavenly object you are viewing an almost 3D feel. I can really recommend giving a pair a go.
But one step on from binoviewers is actually bolting together two telescopes and putting them close enough together so that you can look through both at the same time (mega binoculars!).
Binoscopes are not a new idea, they have been around since the 1920's. This book covers binoscopes in several different ways – from the point of view of building them yourself from scratch, buying two telescopes and mounting them together or actually purchasing a binoscope from a well known manufacturer like Vixen.
The book begins with the question, Why Binoscopes? It then goes on to look at optical design for binoscopes. There is then a chapter called Binoculars are Binoscopes, which looks at the similarities between the two as well as looking at building downward binocular mounts.
Building and Using Binoscopes is packed full of weird and wonderful images of various binoscopes that have been homemade from around the world. There is help and ideas on making your own binoscopes themselves as well making the mount and drive for them.
The single appendix includes a range of astronomical equations.
This is a very quirky book, and a topic I would have never thought there was a printed book on. But if building a binoscope interests you whether it's from scratch or by putting together two purchased telescopes then this book is really for you.