Digital Astrophotography Book Review
Posted on:
September 3, 2008
/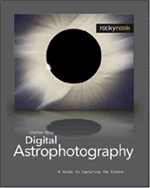 Digital Astrophotography is a very clear, up to date and concise book on how to accomplish digital astrophotography.  The book details four main ways to take images, either via a digital compact camera, a webcam, with an SLR/DSLR or via a CCD camera.
It was refreshing to read a book which was up to date with some really nice colour screenshots and image included.  Most of the other books on astrophotography have not been updated, as they only discussed using either early webcams or manual SLR cameras.
Each chapter of Digital Astrophotography covers digital compact cameras, SLR cameras, webcams and CCD imagers. In each chapter you get information on the type of equipment, what to look out if you are considering a purchase, and how much you will likely pay (in dollars) for the equipment. Finally there is a table detailing the advantages and disadvantages of each piece of equipment.
Each piece of equipment is then covered in detail, including how to set up your piece of imaging equipment and how to take images, and how to process them. For example in the webcam chapter you are instructed how to set up and use the Philips SPC900 webcam and how to use VLounge, Registax software and Photoshop in order to obtain your finished images.
The final part of the book takes you through using the software program AstroArt to manipulate your astrophotography images. There is also a website to accompany the book which contains images you can download to practice on and follow the examples with.
 
Overall Digital Astrophotography by Stefan Seip is a brilliant book and one I read cover to cover.  If you are after a beginner's type book about digital astrophotography and you want to learn how to image using a compact camera, webcam, DSLR or CCD imager then I can recommend this book.
How to use a computerised telescope is available at Waterstones