Budget Astrophotography Book Review
Posted on:
April 23, 2015
/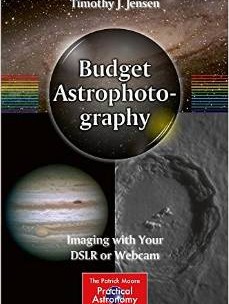 Budget Astrophotography is an introduction into Imaging with a Webcam or DSLR for amateur astronomers. The books start with the anatomy of the DSLR camera sensor explaining various aspects of Pixel size, chip size, and Chip sensitivity and various other features in easy to understand terms.
The next chapter deals with the Telescope types Refractors, Reflectors and Catadioptric then goes in the detail of the various Telescope Mount types and explains why and how to perform Polar Alignment.
The next two chapters deal with Image capture and image processing. There is a lot of good advice on planning imaging sessions and goes on to explain in easy to understand terms the reasons for taking bias, darks and flat frames to improve the final image quality.
Imaging processing section covers a large number of subjects from preparing Master frames to Layer Masks the author uses flow charts and computer screen shots to explain the topics. There are paragraphs on methods of producing Mosaics and aligning moving objects like comets and Asteroids.
Webcam imaging of planetary object has its own chapter explaining camera types and processing the AVI images with various software then goes on to explain colour and mono camera imaging. The use of individual Red Green Blue (RGB) filters to achieve a colour planetary image with a mono camera and the processing steps required. The chapter then goes on to explain Tips and Tricks of each planet including the Sun and Moon.
For the more advanced Amateur Astronomer chapter 6 looks at Spectroscopy, Photometry and Astrometry in detail for those looking for an interesting project.
The book finishes with Advanced Processing Techniques such as Star removal in Photoshop and Images Plus, goes on to explain with images and computer screen shots, noise filters, enhancing Nebula contrast with Narrow Band Data and Light Gradient removal.
This is an excellent book for the beginner and the more advanced Amateur astronomer planning to start imaging with a DSLR or a webcam. It will be a useful addition to the Amateur book collection and a valuable reference book.
This book covers a wide range of topics, all of which are nicely covered in some detail. So whether you are interested in narrowband imaging, processing deep sky images or imaging the planets there is something for you.
It was good to see a good selection of colour images throughout the book, instead of the normal bland black and white images you sometimes get in astronomy books. At the end of the book the author adds a gallery of images taken with a wide range of equipment from camera lenses to 16" Dobsonian telescopes.
I can recommend this book from The Patrick Moore Practical Astronomy series Published by Springer.
Reviewed By Mick Jenkins

Budget Astrophotography is available at Amazon