Sky-watcher Planetary 6mm Uwa Eyepiece by Sky-Watcher
Posted on:
October 25, 2019
/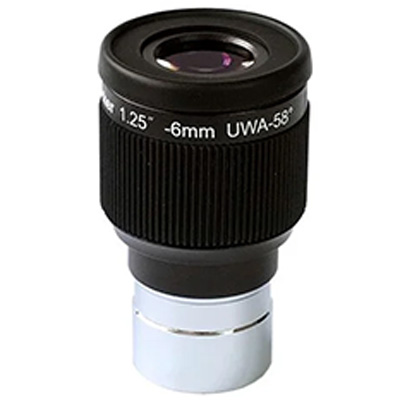 Sky-watcher Planetary 6mm Uwa Eyepiece
The Sky-Watcher Planetary 6mm UWA Eyepiece is ideal when high magnification is required for the observation of fine planetary and lunar detail. Based on a modified Plossl design, this fully multi-coated eyepiece is constructed with five lens elements, and is characterised by its wide 58 degree field of view, low distortion, high contrast performance and comfortable operation. There are other Sky-Watcher Planetary UWA eyepieces available in 2.5mm, 4mm, 5mm, 7mm and 9mm focal lengths. Each model features rubber grips, fold down/screw-off rubber eyecups, a generous 16mm eye relief for spectacle wearers and 1.25? threaded barrels for attaching filters.
Price: £49.99