IC5146 – Cocoon Nebula
Posted on:
October 30, 2011
/
IC 5146 (also known as Caldwell 19, Sh 2-125, and the Cocoon Nebula) is a reflection emission nebula in the constellation of Cygnus.
This image was taken using my 120ED refractor, with my William Optics 0.8x flattener and Atik 314L+ CCD camera, cooled to -10 degrees. I used my Astronomik LRGB filters. The luminance layer was taken using a Hydrogen Alpha (Ha) filter and I took 7 frames of 10mins each, and then did R,G,B – 7 frames binned for 5 mins each.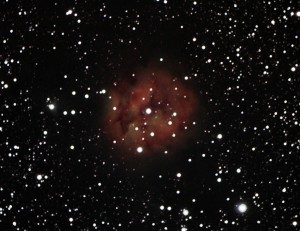 I spent about 2hours in Photoshop on it, but still not really happy with it, it's not as sharp as I would have liked, and I think the stars are a bit bloated. I did try some tricks to reduce the star bloat but they did not make too much difference. It's all a learning curve!