Green Laser Pointer Review
Posted on:
October 31, 2008
/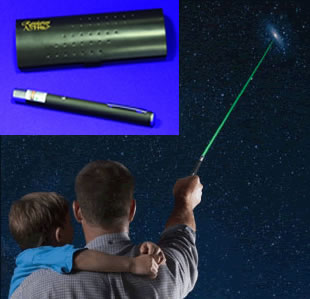 I attended my first Star Party the other week and both the hosts of the party used green laser pointers to point out which celestial objects we were actually looking at through the telescopes and on the large projection screen.
The green laser pointers were amazing and the beam of light went all the way through the sky to the object, which made it look like the beam was actually touching the stars!
So I decided to get myself a green laser pointer, I chose a Revelation Green Laser Pointer from Telescope Planet, it arrived quickly and came in a presentation metal box and it included 2x AAA batteries as well as instructions.
The laser pointer has a 5 mW output and has a beam range of over 12,000 ft. The unit is of very high quality and a great present for any astronomer, especially at the price of around £30.
The laser pointer can also be used in conjunction with a universal bracket which can be fitted to most telescopes which allows the laser pointer to be used as a very capable finderscope.
You can buy the green laser pointer from Telescope Planet here.
2 comments