LEGO City Space Port and Lego Space Shuttle 60080
Posted on:
November 13, 2015
/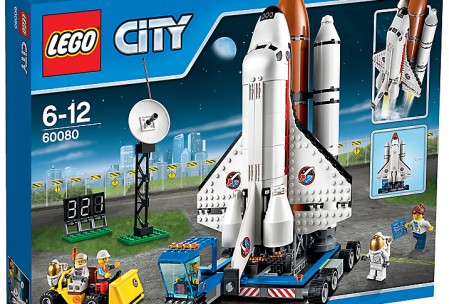 What a great Lego set this is for the astronomy and lego space fan. The full NASA space shuttle model in Lego. Only around 500 pieces, but it does look impressive when finished.
I am sure this lego city space port set will be a big hit, plus remember Lego change their range every 18 months, so it won't be around forever.
The set contains 5 minifigures; a scientist, 2 service personnel and 2 astronauts.
It's launch day at the LEGO City Spaceport. Load the satellite into the space shuttle and use the powerful, mobile launchpad to slowly maneuver it to the launch site.
Then deliver the astronauts with the service vehicle and get strapped in as countdown commences, 3.. 2.. 1.. liftoff! Feel the power as the main engines ignite and send the shuttle hurtling into space.
Eject the external fuel tank and rocket boosters and then open the cargo bay doors ready to launch the satellite! It's another successful mission for the LEGO City Spaceport!