Sun Observer's Guide Book Review
Posted on:
June 5, 2008
/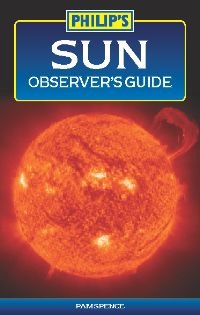 The Philip's Sun Observer's Guide is written by Pam Spence and is one of Philip's pocket type astronomy books. This is the first solar book I have read, I am interested in solar observation as I it allows me to use my telescope in the day as well as just at night. 
The book first of all describes the structure of the sun including information on sunspots and solar winds.  There are then chapters on the types of instruments to use to observe the sun, including telescopes, pinhole cameras and filters.
How to observe the sun, walks you through how to safely view the sun with your telescope or binoculars by making homemade projections systems. 
A good section of the middle of the book is given over to telling you how to make observations and record the observations as well as how to analyse your findings.
As you would expect there is a chapter on solar eclipses and the book describes the theory behind the various types of solar eclipse.  There is also a small section on taking images of the sun, unfortunately it only talks about traditional SLR cameras, and not digital cameras, but it does provide some useful information on the types of shutter speed to use at various ISO levels and focal ratios dependent on the type of eclipse you are imaging.
The last section of the book tells you about the professional solar astronomy that is being conducted around the world. At the rear of the book is a useful list of past, present and future dates of eclipses and what you will see in differing parts of the world. 
Overall the Sun Observer's Guide is a great little book, with some great images, and it provides the reader with a good all round knowledge of the sun and how to view it.  It would have been nice to see a bit more content on imaging the sun and various filters that could be used with a scope, but this book was never meant to go into that greater detail, but instead give the reader a good all round knowledge of the sun, which it does admirably.