Wonders of the Solar System Book
Posted on:
December 8, 2010
/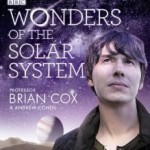 Alongside the Wonders of the Solar System DVD is the Wonders of the Solar System book.
The book accompanies the excellent DVD and TV series from the BBC. The book is split into chapters which relate to the episodes of the series.
The great thing about The Wonders of the Solar System book is the amount of amazing colour images in the book, truly fascinating.
The book (which is quite large – 28cm x 22cm) begins with a lovely and inspiring introducton. Very much of the style of the series, exhalting the ideals of exploration and celebrating the thirst for knowledge of the ocean to explore beyond the shore of our 'thin blue line'.
The rest of the format is much like the series, 5 more chapters on the same heading as the television show;
Chapter 2 – Empire of the Sun
Chapter 3 – Order out of Chaos
Chapter 4 – The Thin Blue Line
Chapter 5 – Dead or Alive
Chapter 6 – Aliens
This book is great and very informative and also very easy to understand for all ages.
The Wonders of the Solar System book is available from Amazon