The Complete Guide To Stargazing Book Review
Posted on:
October 3, 2007
/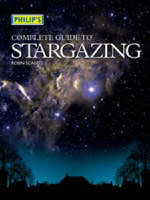 The Complete Guide to Stargazing (0540089370) is an amazing astronomy book from Philips, which is more like an encyclopedia of astronomy, it's certainly a coffee table kind of book which you could leave out and see lots of friends pick up and flick through.
The Complete Guide to Stargazing is a very large full colour astronomy book which contains hundreds of images both from NASA and from amateur astronomers alike.
The book was first published in 2006, but this review is based on the reprinted 2007 edition.
The Complete Guide to Stargazing contains eight chapters with a very large a-z of astronomy at the rear. The first chapter entitled 'The night sky' introduces you to the basics of the sky including details on wavelengths, distances of galaxies, about stars and how we view them.
The second chapter entitled 'Getting Started' introduces you to the night's sky and how it moves, as well as the sun's movement, scale of the sky and star brightness.
The third chapter is about equipment for observing, and discusses using binoculars for astronomy as well as teaching you about the various types of telescopes, mounts and how to get to know and use your telescope.
The fourth chapter is about our moon, and contains some great photos in it of the moon and the lunar landings. There are also useful moon maps included.
The fifth chapter is about the solar system and includes information on how to view the sun through a telescope via projection or by using solar filters. Many full colour images of each planet in turn are shown throughout the chapter including images from a distance and terrain images where available, and it's nice to see amateur images making it into the book, some also detail what type of telescope took the image.
Chapter six covers stars and deep sky objects, again this chapter includes some brilliant images and tips on how to draw objects and photograph them.
Chapter seven is a very useful chapter covering the sky month by month with sky maps and images as well as full descriptions about each item.
The final chapter contains sky maps, and they have been laid out very well, as the left hand side of the page is a map page indicating the constellations and stars, whilst the right hand side of the page is a matching image of the real sky. This makes it really easy to learn the night sky.
Overall The Complete Guide to Stargazing is an amazing book with amazing images, a book which I'm sure most astronomers would love to have, and I can imagine this book being a great gift for anyone interested in astronomy at any age.