Lunar Rover Users Manual Book Review
Posted on:
July 4, 2016
/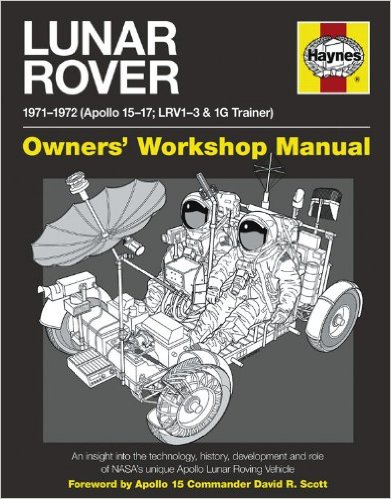 The Haynes Lunar Rover Owners' Workshop Manual contains a foreword by Apollo 15 Commander David R Scott.
This Haynes Lunar Rover users manual covers the Lunar Rover from 1971-1972 and tells the complete story of the lunar vehicle that cost over $38 million to manufacture. It begins with early drawings, all the way to the Rover in use on the Apollo missions.
The Lunar Rover, the most expensive car in history.
This book really does bring together a great number of images never really seen before in one place. This is such an interesting book, which contains some early science fiction drawings and actual early NASA drawings of what the lunar rover could have looked like. There are even details on a lunar motorbike that was also developed at the same time as the lunar rover.
The Lunar Rover made the most of the EVAs, by taking the astronauts further than they had ever been before across the lunar landscape. The book includes the maps of where the LRVs went and what occurred.
The nice thing about the lunar rover users manual book is that you will also find a good range of lunar images with the rover in the background. The 3 rovers are still on the lunar surface 40 years later.
The book contains some really good cross sectional diagrams of certain areas of the lunar rover, as well as early test shots of the rover in action.
If you are interested in the Moon and the lunar landings, then get this Haynes book on the lunar rovers, you will not regret it.
Buy the Lunar Rover Workshop Manual from Amazon UK