Philip's Deep Sky Observer's Guide Review
Posted on:
July 15, 2008
/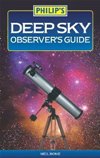 Deep Sky Observer's Guide is an astronomy pocket book by Philip's covering all of the major deep sky targets.
The book begins with an introduction to the astronomy area of deep sky objects, and an introduction to the basics of sky watching and the sorts of equipment that can be used, including binoculars and various telescopes.
The book also tells you where and when to observe, as well as about sketching and how to plan a nights observing.  Over three quarters of the book is given over to listing all the main deep sky objects which can be observed. 
Each deep sky object entry gives a description of the object together with RA and Dec positions and a note of where you can find the object on the sky maps at the back of the book. The book also contains some colour images of the objects.
The rear of the book contains a chapter on the history of deep sky observing including descriptions about the early observers. The book also contains star charts and maps as well as summary lists of the deep sky objects, their magnitude, what page in the book they are on and what month of the year is the best for viewing them.
Overall, Deep Sky Observer's Guide is a great little book if you are interested in deep sky targets and want to be able to draw up a list of objects to observe and where to locate them in the nights sky and when via the sky maps and summary lists.