50 Best Sights in Astronomy Book Review
Posted on:
January 20, 2008
/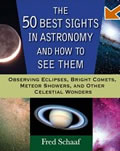 Each of the 50 sights are given their own chapter in this book with these chapters then divided into sections based upon the field of view, and thus what you need to use to see each sight. This includes the naked eye, binoculars, small and large telescopes.
Each of the fifty sights is given several pages each, and each sight is well described together with tips on how to see the sight.
Such sights covered are solar and lunar eclipses, the Pleiades, Andromeda galaxy, Jupiter, Great Orion Nebula, Venus and The Milky Way.
'The 50 Best Sights in Astronomy and How To See Them' is great little book, and will give beginner astronomers a great insight in what you can see and what to look out for during the astronomical year.
Most of the images in the book are in black and white except for a few colour glossy pages that can be found in the middle of the book.
The book also contains five small appendices covering a list of total solar eclipse dates up to 2024, major meteor showers throughout the year, total and partial lunar eclipses, the brightest stars and the transit dates of Mercury and Venus.
Overall 'The 50 Best Sights in Astronomy and How To See Them' is a useful beginners book but it would have been nice if each sight could have been presented with a colour photograph.