Partial Solar Eclipse Images
Posted on:
January 5, 2011
/
I was expecting this morning to be cloudy in Cambridgeshire today, but amazingly the skies started to clear at around 8.30am. I then just had to wait for the Sun to appear from behind the house that backs onto mine, as I was in my back bedroom with the window open taking the photos of the solar eclipse.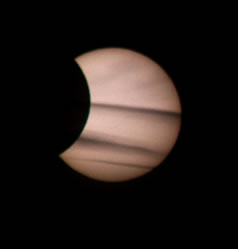 I took these images with my Canon 550d with my 300mm lens on a tripod with a remote cable. I also used my homemade solar camera filter.
The images are not that great, but I did like the one that had cloud bands along it which looked a bit like Jupiter.
As the eclipse ended the cloud then came back and it was time to pack away.