Total Lunar Eclipse December 2010
Posted on:
December 21, 2010
/
I was up nice and early today in the freezing conditions, even with a really bad cold to try and capture the total lunar eclipse . I put on several layers and headed out with my new Canon 550d camera on a tripod with a remote cable attached and my 300mm lens and a very large lens hood to try and keep the dew off of the lens.
A few minutes later and I was at a clearing off of the main road, so I could get the full horizon. I started taking a few photos, and then went for the new feature of Full HD videos on the 550d, which when I came home I used Windows Live Movie Maker to make the movie up and put it on YouTube.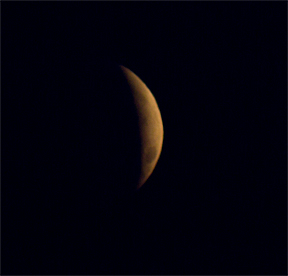 I could see the moon clearly to begin with but once it was at totality I never saw it again as the low clouds covered the moon up. I began shooting at about 7.20am and finished around 7.45am GMT but even that short time was enough.
I was not that happy with the images, as even with a 300mm lens the moon still really looks small, I think you need a 600mm lens or a 2.0x converter if just using an SLR, but ideally you really need an 80mm refractor joined to the SLR to get a good image. Unfortunately I don't get a good view of the western horizon with my permanent set up, but then again with the moon being at about 5 degrees above the horizon the local houses would have also stopped me using my telescope.