Insulating the Observatory Shed
Posted on:
June 29, 2009
/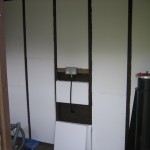 Once the pent shed was erected, I then considered the insulation and the types of products I could use.
I went for 50mm polystyrene sheets which measured 8ft x 4ft, again I ordered these from Buildbase as they were a lot cheaper than Travis Perkins, at around £7.50 each inc VAT.
I also ordered some sheets of 6mm Plywood at the same time, as I wanted to cut the polystyrene sheets into the recesses of the shed and then have the plywood over the top. The plywood was the most expensive item at around £14 for a 8ft x 4ft board.
I ended up ordering 7 sheets of both, with the polystyrene cut and fitted, I had one board left over, so I actually only needed 6 sheets for the 8x6ft pent shed.
Cutting the polystyrene sheets was quite messy, and the garden now resembled in parts a snowy type of winter wonderland scene, with all the residue of the polystyrene balls everywhere. I actually cut the sheets with a saw, and it was really easy to do.
The only problem has been that the shed recesses are 40mm deep and the polystyrene sheets only come in 25mm and 5omm depth, so I now have the polystyrene sheets sticking out by 10mm.
To get round this I could have either thinned down the sheets, but a very messy job. I did think of cutting up polystyrene strips in 10mm depths, but again probably a difficult and messy job.  So I ended up cutting strips of plywood for one inner wall. I actually used 2 pieces back to back to layer up to the correct height.
On the other three inner walls I used some rough wood which came from Travis Perkins pallets, the wood actually spaces the main wood on the pallets. It was the correct width and depth, and they nicely let me take as much as this as I wanted.
So far I have insulated the whole of the shed including the door, but excluding the ceiling, I may insulate a part of this when I work out how I am going to have my roof open up, I may also insulate the main part of the ceiling with a thinner lighter silver reflective sheet, but we'll see.
2 comments