Observatory Roof Leaks and Felting
Posted on:
October 25, 2019
/
Over the years I have had to fill in and patch the odd part of the pent shed felt roof where leaks have appeared of I think birds beaks have penetrated the roof felt. Some times it was just filling the odd hole or replacing sections of felt. It was now time to replace the whole of the roof felt. Not bad really after about 10 years.
I had been seeing the odd leak in the roof and that was being absorbed by the black carpet. Why did I ever put carpet in the observatory, especially black you can never see anything on the floor if you drop anything. I think I wanted to make it more homely.
Anyway I removed the carpet and decided on trying to locate some good quality felt. The search began on the internet looking for felt at Screwfix (who don't stock felt!) then onto Jewsons and Travis Perkins, local shed manufacturers, fencing companies and other hardware outlets. You can even buy roof felt on Ebay and Amazon. You just have to pay a few pounds more for delivery. Thing was I didn't want to wait a week for delivery, I knew the weather was going to be OK for late October for two days so I needed the felt ASAP.
I ended up purchasing some felt from my local Wickes store. I bought the upgraded versions which come in 8m lengths. I paid £30 for the roll and I must admit the quality looks really good and it is quite light in weight, as some can be really heavy and that can't be good for my roof. I also did make a trip to Screwfix to purchase some felt adhesive, which now comes in a tube as opposed to using a brush and a tin of bitumen. Although it turns out I did use some of the bitumen tin anyway as it was better than the Screwfix felt adhesive. Although that could have been because of the time of year, you really want a warm day in the Summer to do this job to let the tar heat up and bond. I don't think a 11 degree day really works – why didn't I do this in Summer?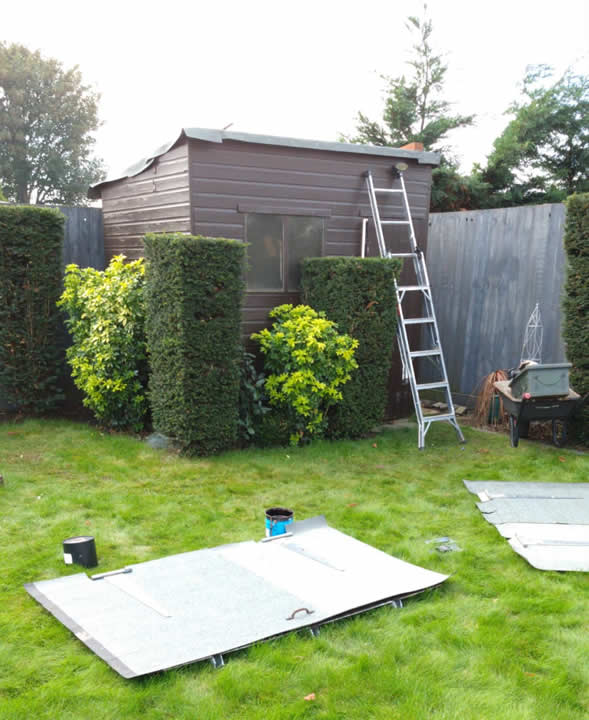 I started the next wet dewy morning removing the hatch doors and then worked on removing all of the old felt. I was amazed how bad it had actually got as the felt had dried up and shrunk around the shed pin nails leaving quite big holes in the felt.
I proceeded to cut three strips for the pent shed roof. But as I have a raised section in the middle that support the traps doors on the roof I could not work out how to fold the felt or how we'd managed to do fit it over 10 years earlier. I couldn't see any folds in the old felt I had just removed either. Never mind in the end I just made a couple of cuts and folds and had to perform the odd patch.
It turns out that the 8m roll of felt is not really enough for my 8ft shed with overlaps. So I didn't have enough felt to cover the trap doors as well, luckily I had some other spare felt, but that was of the heavier type which did not match. So next time, buy 2 rolls!
After day 1, I was far from finished, so I made it watertight put the doors back on the roof and went in. The next day I started again and managed to nearly complete the changeover. That's the problem with October days you only get to work until about 4pm before it gets too dark or cold. I'm glad I got it finished on the 2nd day as on the 3rd day I was expecting a good test, with heavy rain forecast. Boy did it rain, it poured down and I'm glad to say that evening upon inspection I could find no leaks inside.
Now I look forward to hoovering it out, putting the furniture back in and re-attaching all the cables back into the PC. Hopefully I won't have to do it again for another 10 years at least. That is if by then at the age of 57 I will be able to lift the heavy doors off of the roof and put them back on, we'll see. I suppose my son who will be a late teenager by then may be able to help me.
I now look at these lovely observatory sheds with their sliding roofs that run on rails and I think to myself why didn't I make one of those instead? and the answer has always been the garden is too small to take the external posts and runners.