My Astronomy Friends – Hedgehogs
Posted on:
September 12, 2007
/
Every night when I am out in the garden, I hear rustling in the bushes of the hedgehogs doing the rounds looking for food. When I first heard the rustling in the dark I wondered what it was, but now I know when the hedgehogs are coming and going as they make a 'scraping' sound with their spines under the back gate.
Boy do they move fast with those little feet, and they also scratch themselves a lot with their back feet, must be the fleas!
So here is an image of one of my friends the hedgehog, who visit me most nights, and whom I am now used to seeing and hearing!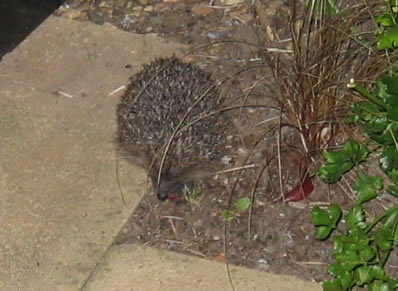 My apologies to the hedgehog if the flash momentarily blinded you!