Satellite Tracker
Posted on:
August 20, 2009
/
Satellite Tracker is a very useful freeware Windows program which can connect to an LX200 and it allows you to track and view satellites with your telescope, including the ISS.
The satellite tracker software was a hard program to find and download, I actually got sent it by someone who sold me my Meade Super Wedge. So I have decided to put the program on my site for download, so hopefully more people can find it and use it.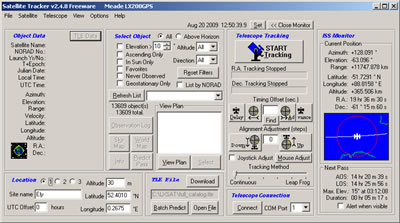 You will need to create an account at www.space-track.org in order to download the satellite data.
Download Satellite Tracker (528k)
Update 10th May 2016
I have now been told that Satellite Tracker has a new lease of life and the file above is quite old. A new version and new forum is available at: https://www.heavenscape.com/
2 comments