National Geographic Star Planetarium
Posted on:
November 27, 2007
/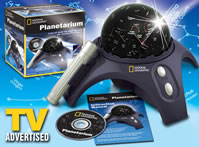 On my travels around the internet I found the National Geographic Star Planetarium. This planetarium can transform a room into a space theatre. A Cyber Sky CD-ROM comes with it and is packed with facts and ancient legends to learn about as you watch projected stars move across the ceiling.
I think this kind of childrens planetarium has been around for many years now and has been updated in it's look and now comes with a CD where it used to come with a cassette tape (remember those?).
"Transform your room into a 360-degree planetarium filled with stars and constellations. Includes a CD audio tour of the night sky and a hand-held meteor maker to add streaking meteors on command. Use the constellation dome outdoors as a 3D glow-in-the-dark star map. With lights, sounds and fascinating facts, it's just like being in a real planetarium at home!
Age 8+".
A great gift for the junior astronomer and not too expensive either, I found a similar Star Theatre which looks an improved version at The Science Museum for £29.99, or the version pictured above from The Toy Shop at £19.95