The Complete Guide to the Herschel Objects Book Review
Posted on:
January 8, 2014
/
The Complete Guide to the Herschel Objects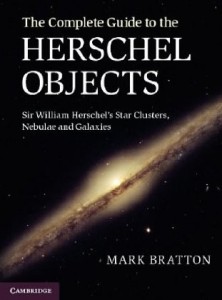 The beginning of the Herschel Objects book gives a brief introduction to the Herschel catalogue and then talks about William Herschel the telescope maker and the various telescopes that he made.
The book is broken down into each of the constellations. Within each constellation chapter are the details in turn on each of the deep sky objects in the Herschel catalogue.
Not all objects are given an image, (sometimes you get a sketch) but you may expect this – seeing that there are sometimes lots and lots of objects in a constellation. Each object is provided with a classification code, a Herschel number, the location, its physical dimensions, the magnitude and a description of the object.
The Complete Guide to the Herschel Objects is a complete guide and it's a great reference book. It would have been nice to see colour images instead of black and white. It would also have been nice to see full colour images for every Herschel object on its own page, but due to the sheer number of objects that is just not possible. This is a shame as one of my favourite books is the Messier Complete Atlas that Cambridge University Press publish and that is full colour and really well laid out.
The Complete Guide to the Herschel Objects is available at Waterstones