Stargazing Basics Book Review
Posted on:
July 27, 2010
/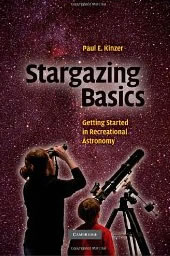 Stargazing Basics is a book for the beginner, it mainly covers what to look for when purchasing basic astronomy equipment including binoculars or your first telescope.
Stargazing Basics is divided into two main sections, the first describes the different types of telescopes you can buy and what to look for when purchasing binoculars. Every type of telescope is described, with a focus on those coming under a certain price bracket, in reality all those telescopes that you may choose when first making a purchase. But the first section is not just about telescopes, the book also briefly covers astronomy accessories which you may purchase at a later date.
Part two of the book entitled "What's up There?" gives you an overview of the types of objects you may well see when using a beginner's telescope. This is done using images and giving descriptions about the Moon, Sun, Planets, Nebulae, Galaxies, Stars etc.
There is a very large glossary at the rear of the book which takes up around 25 pages; this is a lot when the whole book is only 140 pages in total. But it can be very useful to have a glossary when you are starting out on as new topic and a lot of unknown words are used in the body of the book.
After the glossary there are some simple start charts you can use, as well as a list of the constellation names with descriptions.
Overall this is a very nice book for the beginner who wants to get into astronomy, it will certainly provide you with a lot of knowledge before you visit your local astronomy store and make a purchase of either binoculars or a telescope. Reading this book certainly would have helped me at the time.
It's also nice to see that the author has not included images which represent objects what you won't see through your first telescope. He has instead used his own images which mean you won't be disheartened when you use your telescope for the first time and you don't see in the eyepiece astronomy images like those produced by the big NASA telescopes.