Haynes Space Shuttle Manual Book Review
Posted on:
February 21, 2013
/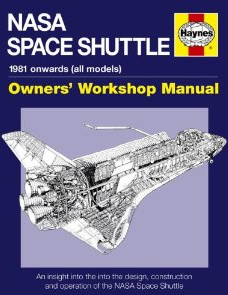 This is the first astronomy/space based Haynes manual I have seen, and I am pleasantly surprised. I really didn't know what to expect, I probably thought it was just going to be engineering drawings with lots of information on how to service and build your own space shuttle, a bit like the Haynes car manuals. But there is more to this book than just cross sections of the Space Shuttle.
There are some amazing colour photographs from NASA charting the initial testing and build of the shuttle, right through to the various missions of the shuttle. There are great images of the insides of the shuttle and of course there are some cross section diagrams of the shuttle with in-depth details on each of the sections of the shuttle and about all the dials on the flight deck.
The book begins with some early details on the Genesis project, with some great photos of the early missions and pilots. There is then a section on the building of the shuttle with images of the build from the beginning. There is then a chapter on the anatomy of the shuttle, with in-depth descriptions of each part in turn.
The space shuttles main tanks are covered as well in a separate chapter, including details on the build of the external tanks and the solid booster tanks. The following chapters then cover the flying of the shuttle and how the astronauts go about living on the shuttle. The book as you would expect then covers all of the main missions the space shuttle has completed.
This is a very interesting book of nearly 200 pages worth of information. The funny thing I liked was the title on the cover 'NASA
Space Shuttle 1981 onwards (all models)'.
Overall this is a really nice book which contains an amazing amount of information about the NASA Space Shuttle. It's also nice to see full colour images, and it's a book you can actually read and not just look at the pictures!
If the Space Shuttle interests you then get this Haynes manual on the Space Shuttle, you won't be disappointed.
Author: David Baker
RRP: £19.99
The Haynes Space Shuttle Manual is available at Waterstones or directly from Haynes