Turn Left at Orion 4th Edition Book Review
Posted on:
April 17, 2014
/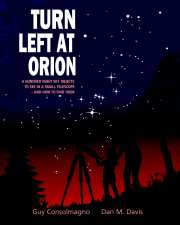 The first editions of Turn Left at Orion were a massive best seller in the astronomy book category with over 100,000 copies sold. This is the latest 4th edition as of 2012. One of the major changes has been that this edition has been spiral bound, which makes it a lot easier to use when you are out in the dark, plus you are not going to break the spine of the book.
Turn Left at Orion is written for beginners with over 500 illustrations with large format diagrams showing how objects actually appear in telescope eyepieces.
Another good thing about Turn Left at Orion is that it includes both Northern and Southern hemispheres, so if you go on a long distance vacation to another hemisphere you can take the book with you and still use it.
The book begins with a few chapters on how to use the book and how to use your telescope, which are useful chapters for beginners. There is then a great chapter on The Moon. I best thing I like are the moon maps showing you details of the lunar surface for certain nights over the lunar months, there are also close-up images of certain features. A list of lunar eclipses worldwide up to 2025 is included.
There is then a section including all the planets including where to look in the sky for the planets during the year. The rest of the book is split into seasonal skies, divided into quarters. Each object shows you it via naked eye, then the view of the object in a finderscope, the view in a small telescope and the view in a Dobsonian telescope, with both these views duplicated showing what they would look like under a high powered eyepiece. Good descriptions of the objects are also included.
Don't expect full colour images of the night sky objects, but there are still good sketched type pictures of the objects. Overall, I really like Turn Left at Orion especially if you want to learn the night sky. It's also great if you want to know what objects will look like through various types of telescopes at various powers.
Turn Left at Orion is available at Waterstones