Observer's Guide to Star Clusters Book Review
Posted on:
August 1, 2016
/
Observer's Guide to Star Clusters by Mike Inglis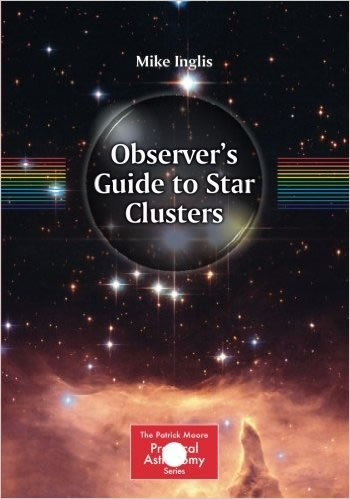 This book is part of the Patrick Moore Practical Astronomy Series, and it is a book which is organised by constellation. This is actually a good way to organise a book as it allows you to locate the positions of important star clusters in the 88 constellations from anywhere on Earth.
The constellation maps in the book are in black and white, this may not sound so great, but it does allow you to read the maps by the light of a red LED torch or reading light. The clusters themselves and their names or numbers are printed in bold black, against a 'greyed-out' background of stars and constellation figures.
The Observer's Guide to Star Clusters book begins with an introduction to star clusters, which includes how they star clusters are classified, how to record your observations, a full list of the constellations and which constellations will be on show at certain times of the year.
A typical page of the Observer's Guide to Star Clusters gives you fast facts about the constellation such as its abbreviation, genitive name, it's translation e.g. Andromedae means Princess of Ethiopia, its visible latitudes, and it's culmination date.
Then within that constellation the book lists the star clusters in turn providing the reader with the catalogue name that the star cluster is listed in, RA and Dec co-ordinates, the visual magnitude, the approximate number of stars in the cluster, the concentration class and finally the level of difficulty to finding it. There is then a small description about the cluster by the author.
The index at the rear of the book lists each star cluster by its catalogue name, so for example by its NGC or Messier number.
When I first flicked through the book, I felt a bit let down by the endless lists and black and white constellation map drawings, but I can see how this book will help out the astronomer who wants to locate both easy and hard to find star clusters – a lot of which are NGC numbers. It is very handy to have the book ordered by constellation – that I love, the only thing that could be improved here are the star maps. Overall, the Observer's Guide to Star Clusters is a useful astronomy title.
Buy Observer's Guide to Star Clusters from Amazon UK