Lessons from the Masters Book Review
Posted on:
August 10, 2016
/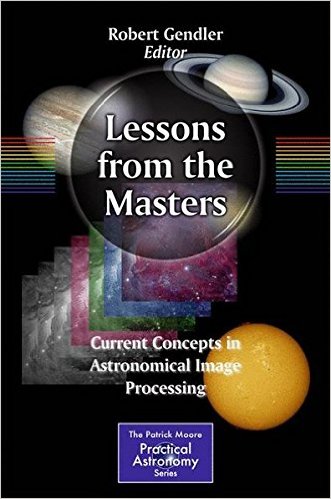 Lessons from the Masters is an astrophotography book from Springer. Each chapter is written by different well known astrophotographers. It is good to have individual chapters, as it makes it nice to pick up the book and just read one chapter at a time.
There really is something for everyone in this book, whether you are into solar imaging, lunar photography, widefield SLR imaging, planetary imaging or deep sky imaging.
It took me a while to read the book cover to cover, but I did begin reading the chapters I found most interesting first. I then seemed to randomly pick chapters one at a time and read them.
I began with Damian Peach's chapter about planetary imaging. Now I think his images are amazing, and I am sure there is something he does, that he is not telling us. Unfortunately I thought he could have told us some more about what he does exactly when he images. I felt the chapter was a little bit too much of an overview.
'Lessons from the Masters' begins with a great chapter on the theory of astronomical imaging which includes lots of equations and graphs discussing signal to noise ratio, full width at half maximum, quantum efficiency, sampling and calibration etc.
Then there are a number of chapters covering different areas of astro imaging from authors that include Tony Hallas, Don Goldman, Ken Crawford, Damian Peach and Robert Gendler.
Lessons from the masters chapters:
High Dynamic Range Processing
Intensifying Colour
Revealing small scale details
Bringing out faint large scale structure
Narrowband imaging
Widefield imaging
Noise reduction techniques
Deep Sky Imaging workflow
High resolution lunar and planetary imaging
Secrets to successful earth and sky photography
Imaging and processing images of the solar corona
Catching sunlight
Aesthetics and composition in deep sky imaging
Hybrid images: A strategy for optimising impact in astronomical images
It's nice to see colour images throughout the book. Some of the chapters you can just read through and others are chapters that you will need to sit at your computer and work through in programs like Photoshop.
There are some great tips throughout 'Lessons from the Masters', I think everybody will get something out of it. It is nice that 'Lessons from the Masters' is a new book (published in 2013), and not an imaging book that is 10 years old. I think your astro imaging will improve after reading this book.