Sunspots on 10th October 2010
Posted on:
October 12, 2010
/
I managed to get out on the day of Sunday 10th October to try out a 2″ red type filter I received which looks homemade. It was supposed to be an H-Alpha Solar filter, but it did nothing visually.  So I thought I would try it whilst imaging with my Imaging Source DMK21 camera and see if, with a low enough exposure I could see some prominences, but alas no.
Getting out in the daytime also enabled me to try out my 2.5x Televue Powermate which I have just purchased. I added it onto my Skywatcher ED80 Pro, together with the Televue Powermate, Baader Solar Continuum filter and a simple homemade Baader Solar Film filter and my DMK21 camera I managed to get this image.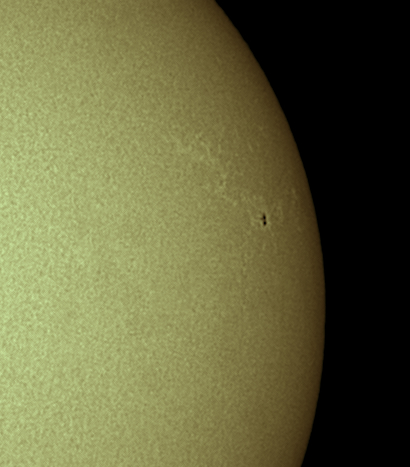 This has been recorded using the ICapture software provided by The Imaging Source and then processed in Registax 5 and then tweaked in Photoshop.