Small Sun Spots
Posted on:
February 21, 2010
/
Today it's snowing, but yesterday I managed to view the Sun and do some imaging – crazy weather!
Usually when viewing the Sun at the moment it's a very uninteresting sinle coloured disc, but today (20th February 2010) I was amazed to see two small sunspots on the face of the Sun.
With this being such an unusual occurence lately I had to get some images.
Before I purchased my guidescope I only had solar filters for the LX200, by way of a hartmann mask and a glass ETX solar filter. Now I also have a mylar sheet type filter for my small refractor. Both provide different colours of the Sun.
The ETX glass solar filter gives an orange colour to the Sun, whilst the mylar sheet provides a kind of white colour.
The sunspots are so small you may have trouble seeing them on these images, but they are on the lower right hand corner. Click on the image to enlarge it.
First the mylar image on the refractor: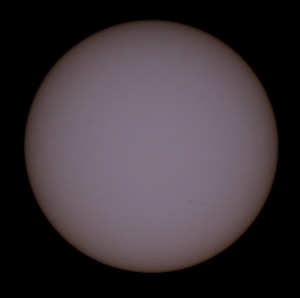 The image from my LX200 using an ETX glass solar: