Helios Nature Sport 7×50 Binoculars Review
Posted on:
February 5, 2014
/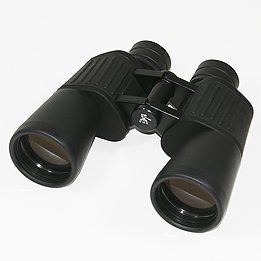 I already have a rather large pair of 15×70 binoculars. These are fine and give you a great view, but sometimes too much magnification, that you don't know where you are in the sky. Plus they are also very heavy and you can't keep them still in your hands for too long, they really need to be attached to a tripod.
So I wanted a pair of binoculars that were the complete opposite to the ones I have. So I went for the lowest power magnification I could find at 7x but I still wanted to gather a fair bit of light so went for 50mm objective lenses.
The Helios Nature sport 7×50 binoculars provided me with the specification I wanted, plus they were rubberised and quite light.
I did have a budget, but didn't want a cheap pair as I am always worried about cheap binoculars and how they may easily go wrong. I paid £60 for the Helios Naturesport binoculars.
One of the major benefits was that these binoculars are 'focus free'. There is no middle focuser on the binoculars. I think that's a bonus, as that's another part that can't go wrong. The focus is fixed using a specially designed eyepiece that allows the image to be perfectly sharp from the near focus point of 20m to infinity.
I was amazed to see how these 'focus free' binoculars actually worked. When I bought them I only managed to look down a street in the daytime. But I was pleasantly surprised how sharp the view was to infinity and as close as 18m away.
The binoculars come with a padded carry case was well as end caps and cleaning cloth. They also have a binocular screw hole so you can connect them to a tripod if required.
The anti-reflection multi-coatings and BK7 optics (all lenses and prisms) deliver excellent light transmission and sharp high-contrast image replication.
So what are they like at night time for astronomy? Well, you can see Jupiter and its moons. You can easily see the Pleiades with a lot of sky around them. The moon is not that big but you can just make out the craters along the terminator. I would suggest more magnification if you want really good lunar views.
For an idea of what the field of view is like, you can fit the whole of Orion's belt and sword into the field of view and make out the Orion Nebula.
The great thing is you don't have to focus, just point them up to whatever you want and view! Easy.
Magnification: 7x
Brightness: 28.35
Twilight rate: 25.8
FOV: 114m @ 1000m,
Dimensions: 185 x 62 x 170mm
Weight: 780g
Close focus 15m
by Daniel Coe