Stargazing with Binoculars Book Review
Posted on:
January 21, 2010
/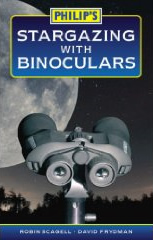 Stargazing with Binoculars with Robin Scagell and David Frydman
Stargazing with Binoculars is the latest book from Philip's (as of Spring 2008). Using binoculars is a great way to begin your astronomy hobby before you go out and spend money on a telescope, especially now that you can buy some powerful binoculars for little money. I use a pair of binoculars myself as they are quick and easy to pick up and use, I think everybody should have a pair.
So it is about time we saw a book on astronomy with binoculars. The book does contain in-depth information on the various types of binoculars and what to look for when purchasing a pair. This includes the various models, using tripods and how to attach the binoculars with an L bracket, this information is not at the beginning of the book but actually at the back of the book.
The book also covers how to look after your binoculars and how to observe the sun with them. Stargazing with binoculars actually begins by introducing you to the night's sky and how to find your way round it.
There is an interesting chapter entitled "The binocular observer's year" which tells you what the best sights are to look out for month by month during the year.
The book also contains a chapter on the solar system which gives readers a general overview of the night's sky and the hobby of astronomy.
Stargazing with binoculars is a great book as it contains some really nice colour images of the night's sky, which are all up to date. If you are interested in astronomy and want to buy a pair of binoculars or if you already own a pair but want to get outside to look at the night's sky, then buy this book.