Planisphere
Posted on:
November 22, 2011
/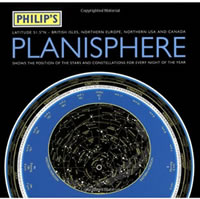 Last year after BBC Stargazing Live one of the most popular items was the Philips Planisphere, which Jonathan Ross used on the show to find the stars in the sky.
The Planisphere is the perfect tool for any amateur astronomer. It comes with full instructions on its use, so you can have a quick look at it and be out inspecting the night sky in only a few minutes.
The planisphere also explains how to find the major planets (Venus, Mars, Jupiter and Saturn), sunrise and sunset as well as the positions of the constellations, season by season. Luckily, many of these instructions can be found on the back of the Planisphere itself (along with a Key to map symbols) so that you can always flip it over if you get stuck.
The Planisphere itself is sturdy, flexible and laminated so it won't be affected by wet surfaces – which is useful if you find yourself outside and there's a change in the weather. This makes it superior to any cardboard version.
Buy the Philip's Planisphere from Amazon, makes a perfect Astronomy Gift for someone who wants to learn the night sky.
Philip's Planisphere for British Isles, Northern Europe Northern USA and Canada