How To Clean the Meade Autostar Handset
Posted on:
April 28, 2011
/
For ages my Meade Handset on my LX200 GPS telescope has been very unresponsive to key presses. I always find myself having to hammer the keys in order to get the handset to register the key press.
But I did not want to buy a new Meade handset as they are so expensive, so I was glad to find some details on the internet on how to clean the handset.
All you need to do this is some cotton wool buds and some alcohol.
Begin by unscrewing the 4 screws on the back of the handset, then remove the rear plastic case cover which contains the red light plastic cover.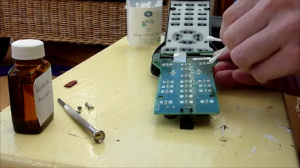 You will how find that the front of the handset and the main motherboard are joined by a ribbon type cable, so be careful not to stress this cable as the cable is not that long.
I then began by dipping my cotton bud into the alcohol and gently rubbing each of the contacts in turn and then using another cotton wool bud in order to dry and further clean the contact.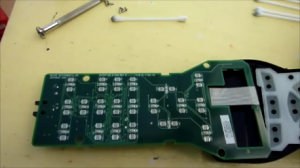 There are quite a few contacts to clean, so you may find yourself using quite a few cotton buds, but you should visibly see the dirt on the cotton wool buds.
After doing all the contacts on the main board, I then cleaned the black rubbery dots on the back of the keys using the same method.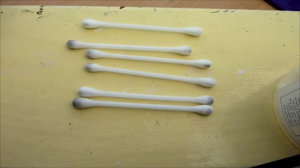 After finishing I then put everything back together and made sure that the ribbon cable does not get put in front of the main lcd screen, as otherwise you will see the ribbon cable in the window and some of your wording on the handset will look strange. I did this first and then noticed it when I attached the handset to the telescope and turned it on. I then took the handset apart and repositioned the ribbon cable.
Once I tried the handset with the LX200 I was then amazed at how responsive the keys then were. This is definitely a quick and simple little job to undertake if your Meade handset keys are also not working so well.
I also recorded a video on what I did to clean the Meade handset, and it can be found below: