Yuri Gagarin T-Shirt
Posted on:
April 13, 2011
/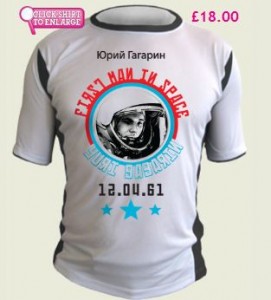 Celebrate the 50th anniversary of Yuri Gagarin's first manned space flight with a Gagarin t shirt.
The Vostok Capsule was essentially a 2.5m diameter sphere. The Vostok Rocket that it sat on was fuelled by very powerful but seriously noxious propellants: ammonium perchlorate, aluminium powder, and a polymer of butadiene as well as liquid oxygen and kerosene. A bomb by any other measure. Although Gagarin is on record as saying in his brief report that he had complete faith in Russian engineers and scientists.
Gagarin's written report of the mission – there are thought to have only been one original and four carbon copies of the report – describes the view he was the first human to see: that of the Earth from space. Since then only about 500 human beings have witnessed similar views. Fewer than you might guess.
In his short report Gagarin remarks on the speed of the switch from light to the complete shade of the earth and the switch back again as well as the extraordinary detail of the shadows of clouds and the the geological features of the ground he was passing over. Stunning and momentous stuff for everyone at the time.
Perhaps more incredible is that fact that eight short years later Neil Armstrong stepped onto the Moon. A demonstration of the power of competition.
Celebrate a life changing event and a brave human being wear a Yuri Gagarin and Vostok Rocket or Capsule t shirt.