Wonders of the Solar System DVD
Posted on:
December 8, 2010
/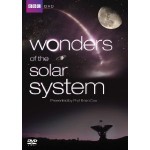 Here is a great gift for someone this Christmas, The Wonders of the Solar System DVD by Brian Cox.
This astronomy/space series was originally shown on the BBC.
It is presented by Professor Brian Cox, the series takes time to investigate the solar system around us, and the many natural beauties contained within it. Across the episodes, Cox covers the likes of planets themselves, the rings of Saturn, the question of whether we're alone in the universe, and the sun itself.
What lifts Wonders Of The Solar System above the many shows that have tackled the subject before, however, are two factors. Firstly, it's Cox himself, an enthused and interesting host, who explains things well and really helps make accessible the material. Secondly, it's the utterly stunning visuals. The BBC has mixed in CGI along with images sent directly from space to quite breathtaking effect.
The series contains five episodes, each of which focuses on an aspect of the Solar System and features a 'wonder'.
There are 5 episodes on the DVD:
1-Empire of the sun
A great introduction to the series that illustrates how the formation and behavior of the Sun affects each planet in the Solar System .The graphics of the formation of the sun are truly spectacular.
2-Order Out of Chaos
The second episode explores the Rings of Saturn and explains their differences and the effect of gravity on their formation. The pictures from Cassini add a wonderful touch to the stunning graphics.
3-The Thin Blue Line
The third episode looks at the atmosphere of Earth and that of Titan moon in Saturn. A very relevant program that touches on how fragile is our existence and how much we own to our atmosphere.
4-Dead or Alive
The fourth episode looks at the size of planets, volcanoes, and the moon Io ,and how size and position in the solar system determines if live can develop in a planet. The images form the Erta Ale volcano in Ethiopia are a great example of the conditions in other places of the solar system.
5-Aliens
The program covers life surviving in extreme environments in our planet, and how the search for life on other planets follows the search for water. This last episode is the most interesting of them all as it asks a couple of very interesting questions ,Are we alone in the Universe ? What if we are ? What if we aren't ?
This series is available on both standard DVD and on high definition Blu Ray disks.
The DVD is available now from Amazon UK