The Universe DVD
Posted on:
December 14, 2009
/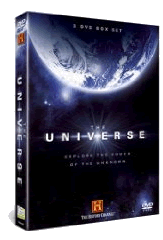 One of the best series on astronomy and the solar system for me has been The Universe from the History Channel. It is now available as a standard DVD and in Blu-Ray High Definition format.
There are currently 2 series you can buy, the first series is on 3 DVDs and so you get 600 mins of programmes. The 2nd series is even longer on 5 DVDs running for 842 minutes.
The second series of The Universe includes episodes: Alien Planets, Cosmic Holes, Mysteries of the Moon, The Milky Way, Alien Moons, Dark Matter, Astrobiology, Space Travel, Supernovas, Constellations, Unexplained Mysteries, Cosmic Collisions and Colonizing Space.
The Universe DVD series makes a perfect gift for any astronomer, space enthusiast or for educational use.