Moon In My Room
Posted on:
November 2, 2007
/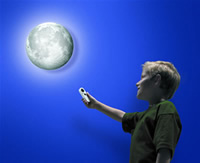 I found "moon in my room" whilst surfing around I am really tempted to buy it, ok so it's bit of a toy, but the idea is really great, and it looks good too.
Moon In My Room – What could be cooler than having your own moon hanging up on your bedroom wall or ceiling? This fasinating moon with authentic detail shines just like the real moon in the twelve different lunar phases.
Using a mini remote control, you can smoothly glide through the twelve phases of the moon, or leave it on automatic and watch it glow from Waning Crescent to Waxing Gibbous and finally the New Moon. The light will automatically turn itself on in a darkened room, and off after 30 minutes; ideal for night-time wind-down, although it can be manually over-ridden.

Moon In My Room is really easy to set up and no mains electrics are required. Just position the unit and use the wall mountings that are included in the box.
Moon In My Room also comes with an audio CD, explaining loads of exciting facts about the moon. Great for little astronauts.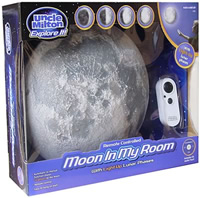 Moon In My Room requires 4 AA and 2 AAA batteries. Diameter 26cm. For Ages 3+.
Remote controlled moon with 12 light-up phases.
You can control the Moon phases manually or leave it on automatic.
A built in light sensor; it will automatically start illuminating in a darkened room.
An auto shut-off mechanisum after 30 minutes of inactivity to save battery power. (Although you can override this feature if you wish)
Audio CD
Designed to be mounted on your bedroom wall via wall mountings.
Size: 26 cm x 26 cm x 6 cm
The cheapest place I could find it was at Prezzybox for £24.95