Hidden Treasures Book Review
Posted on:
February 19, 2011
/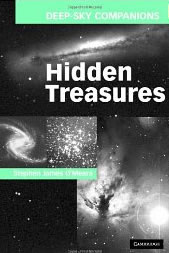 Hidden Treasures is a big, heavy, nearly 600 page book which includes an original selection of 109 deep-sky objects. None of the objects are included in either the Messier or Caldwell catalogues. Together with this all the objects are supposed to be visible with a 4" telescope under dark skies.
The Hidden Treasures book is one of three books by Cambridge University Press in the Deep-Sky companion's series. The others are called The Messier Objects and The Caldwell Objects. With the Hidden Treasure book being so good it seems definitely worth buying the other books as well.
Each of the 109 hidden deep-sky treasures is clearly labelled, with some good introductory text, photographs of the object, sky maps and sometimes drawings.
There are several appendices at the back of the book, the first one is about Caroline Herschel and it takes you through some of her astronomical findings. The other appendices provide you with basic data in a table form of the 109 objects, there are also 25 additional hidden treasures to keep you going once you get through the whole book.
It's really worth taking your time going through each deep-sky object in this book and discovering some new sites to behold when you are out on an observing session. Overall this is a great book, as I love it when objects are clearly labelled and you can jump around the book easily. It's also nice to just have a few pages per object and so you don't get bogged down in lots of details. I look forward to reviewing the other books in the series.