SkyWatcher 1145PM Telescope
Take your star-gazing to new heights with the Skyhawk 1145 PM Reflector Telescope.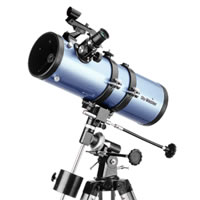 Manufactured by Sky-Watcher, Recommended by Sir Patrick Moore its first-class optics include a 114mm-diameter mirror and magnifying capabilities of x20, x40, x50 and x100. The 500mm focal length gives the wider fields of view ideal for examining nebulae, galaxies and star clusters. A x2 Barlow lens is also included to allow the higher magnifications required for lunar and planetary viewing, with a highest practical power (potential) of x228.
A sturdy equatorial mount and aluminium tripod give reliable support, while the inbuilt motor drive means you can track celestial objects as they cross your view.
This is a perfect first telescope for a beginner.
Buy the Sky Watcher 1145PM Telescope from The Science Museum Store
Sir Patrick Moore Endorses Sky-Watcher Telescopes:
"I have used a great number of telescopes; some are good, some mediocre and some bad. To me the Sky-Watcher range of instruments is very good indeed, and suited to amateurs of all kinds – and they are not priced out of the market! Excellent value. Use them and enjoy them."
Sir Patrick Moore CBE FRS
Sky-Watcher 1145PM Refractor Telescope Highlights
Diameter/Aperture: 114mm
Focal Length: 500mm
Aluminized and overcoated mirrors
Diffraction-limited secondary mirror support
Paraboloidal (parabolic) primary mirror
Red Dot Finder for easy locating of celestial objects
125% more light than 76mm telescope and 165% more than 70mm refractor
Smooth rack-and-pinion 1.25″ focuser
114 primary mirror collects enough light to reveal a wealth of celestial objects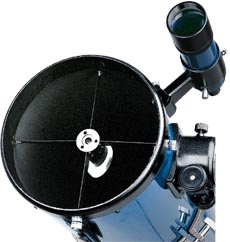 Four-arm, secondary-mirror bracket with fine supportsThe Sky-Watcher paraboloidal (parabolic) mirror reflectors and all Dobsonian models feature a four-arm, secondary-mirror bracket with fine supports (0.5mm thick), to reduce diffraction spikes and light loss.
"A quality telescope that is well built and at a great price, perfect for beginners".
Whatever your interest, terrestrial or celestial, there is a Sky-Watcher Telescope that will suit your needs at an excellent price.
The SkyWatcher 1145PM is certainly a good starting point, it must be good otherwise the Official Science Museum Store would not stock it!
Buy the Sky Watcher 1145PM Telescope from The Science Museum Store
Sky-Watcher 1145PM Refractor Telescope Specifications
Optical Design Paraboloidal Newtonian Reflector
Lens Material
Diameter 114mm
Focal Length 500mm
Scondary Mirror Diameter
F/ratio F/4.4
Highest Practical Power 228X
Faintest Steller Magnitude 12.9
Resoving Power 1
Finderscope Red Dot Finder
Focuser diameter 1.25
Eyepiece(s) 2x 1.25
Mount Type Equatorial
Slow-motion Control RA & DEC
Counterweight(s) 3.5Kgs
Piggyback Bracket Yes
Accessory Tray Large wall-to-wall
Motor Drive Single Axis (Optional)
Tube Dimension(dia. x length) 15cm x 41cm
Tripod Height 67cm-119cm
Shipping Weight 11.5Kgs
Shipping Carton Dimensions 76cm x 28cm x 23cm
Buy the Sky Watcher 1145PM Telescope from The Science Museum Store