SkyScout by Celestron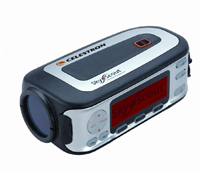 The Celestron SkyScout is a revolutionary handheld device that uses advanced GPS technology with point and click convenience to identify thousands of stars, planets, constellations and more.
Simply point the SkyScout at any star in the sky and click the "target" button. The SkyScout will tell you what object you are looking at. To locate a star or planet, select the object's name from the menu and follow the directional arrows through the viewfinder.  SkyScout tells you when you are on target. It's that easy!
Once you have targeted an object the real fun begins. The SkyScout includes entertaining and educational audio and text information, including facts, trivia, history and mythology about our most popular celestial objects.
A fun learning tool for all ages, the Sky Scout personal planetarium puts the knowledge of an expert astronomer in the palm of your hand.
The Celestron Sky Scout is really easy to use and nice and light to you can hold it up for ages with no problem. The accompanying extras are also good such as the carry case, headphones and free batteries. It also important to keep an eye out on the Celestron web site for updates to the SkyScout, which allows you to update the firmware on the machine and also download exciting new updates of objects in the sky to look out for.
Sky Scout Specifications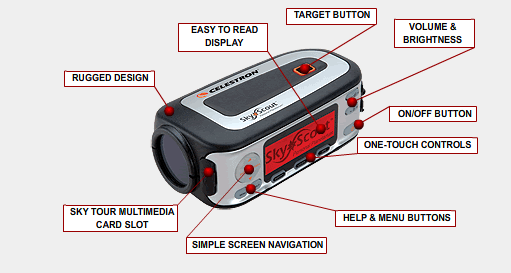 Identifies celestial objects with the click of a button
Locates over 50,000 stars, planets and constellations from built-in celestial database and provides scientific information for each object
Provides comprehensive text and audio descriptions providing history, mythology and other entertaining information for the most popular objects
Tonight's Highlights: A customized list of the 20 best objects to view for your exact date, time and location anywhere in the world
Constellation Lessons: if the star you identify or locate is part of a constellation or an asterism like the Big Dipper, you can actually take a guided tour through all the stars in that constellation and even see an onscreen map of the constellation
Built-in Field Guide Includes:

Introduction to astronomy: a six part audio lesson on the origin and history of astronomy
Glossary of Terms: text defining popular astronomy terms including planets, comets, galaxies and more
Great Astronomers: text bios on some of the world's greatest astronomers including Galileo, Einstein and Copernicus
Man Made Space Objects: text description of some of the coolest objects man has sent into space including the International Space Station, the Hubble Space Telescope and the Space Shuttle
Comet Guide: text descriptions about history's most famous comets including Halley's Comet and Comet Hale-Bop

SD card slot: for optional "SkyScout Expansion Cards" audio presentations that provide hours of entertainment on a variety of topics (available Jan 08)
USB port: allows database to be updated with new objects as they are discovered, comets, etc. 
Simple enough for all ages:  just turn it on and it's ready to use
Built-in Help Menu: includes a quick start instruction guide for using the SkyScout
Bring it anywhere: compact and light design makes it easy to carry and durable construction makes it safe for rugged environments
Backed by Celestron's 2-year warranty
SkyScout Package Contents
SkyScout
Carry Case
Headphones
USB Cable
Batteries
User Guide
Software CD
SkyScout Celestial Database
6,000 Stars, 1,500 Double & Variable Stars, all 88 constellations, over 100 deep space objects including Galaxies, Nebulae & Star Clusters, over 200 audio descriptions of the most popular celestial objects
SkyScout User Controls
Target Button
Menu Navigation: Four-way control
One-Touch Controls: Identify Function, Locate Function, GPS Function, and Main Menu
Display Brightness: Increase, Decrease
Volume: Increase, Decrease
Power: On/Off
SkyScout Display
Graphic LCD display with red LED backlight
3″W x 1″H (78mm x 26mm)
240 x 80 with a 0.325mm dot pitch
SkyScout Audio
Maximum output power: 50mW
Frequency response: 20 to 20,000 Hz
SkyScout Inputs and Outputs
SD card slot
USB for connection to PC
3.5mm stereo jack for headphones
SkyScout Headphones
Earbud-style headphones included
Skylink Interface
Download of new celestial objects (including newly
discovered comets, etc.)
Download of firmware upgrades
SkyScout Size and Weight
Height: 2.5 inches
Depth: 4.0 inches
Width: 7.4 inches
Weight: 15.2 ounces (without batteries)
SkyScout Power and Battery
2 x 1.5V AA batteries (not included)
Overall Summary
This fabulous piece of kit puts expert astronomical knowledge into the palm of your hand. Point the Sky Scout personal planetarium at a heavenly body and it will identify any of 7,500 stars in all 88 constellations using its in-built celestial database and GPS technology.
Sky Scout will recommend the twenty best celestial objects to spot on any given day, time and location, and help you locate thousands of stars, with comprehensive text and audio descriptions for the most popular objects.
Simple to use, light and rugged, with a backlit LCD screen displaying comprehensive information, Sky Scout will bring the night skies to life.
The Celestron SkyScout is available from Amazon UK for around £170 delivered (December 2010).
Buy SkyScout from Amazon