MySky by Meade
Meade have launched the MySky or My Sky which is an interesting educational and useful astronomy multimedia tool with built-in GPS. The MySky is not a telescope and does include any lens or eyepieces. So what you see on the MySky screen is not what you are actually looking at but high quality astronomy images stored on the MySky.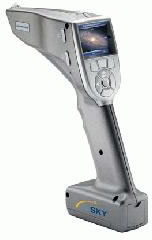 All you have to do is point the MySky at the night sky, and it will locate and identify celestial objects. No knowledge of the night sky is needed, it will align what it sees, and is capable of identifying over 30,000 celestial wonders. Just pull the trigger to find out about the planets, stars, nebula and galaxies in your night sky.
The MySky is comfortable to hold and quite light, so children can use it, Meade recommend that the MySky is suitable for Ages 14+.
Buy MySky now from Science Museum Store for £196
Incredibly easy to use
Turn mySKY on and it automatically determines your position, thanks to a 12 channel GPS receiver and magnetic north sensors. Constellation maps are correctly oriented based on your current position, date and time. Move quickly through mySKY's menus with one-thumb navigation.
Photos, text, video, audio and interactive sky maps
Start with an instructional video, then explore stunning full-color multi-media presentations. Or take a guided tour mySKY will tailor one to your time, date and location. When you want to know more, you can go online to download updated info, new tours and program improvements.
Buy MySky now from Science Museum Store for £196
MySky specifications
Full colour presentations, video, audio, still images and text
Connect to Meade Telescopes providing them with GPS
Real time sky maps
Locate satellites like the International Space Station
Find planets, stars, constellations, galaxies and more
Guided tours of the night sky
Updateable software downloadable from Meade
256MB SD Card included
30,000+ Object database
6 hours battery life with 4 x AA batteries
MySky has illuminated sights so you can easily point to objects. The LCD is 480×234 pixels in full colour. Ear phones are provided so that you can hear the audio broadcasts. 12 channel GPS receiver. Magnetic north sensors.

Enjoy full colour presentations including astrophotography, audio descriptions, videos, mythology, folklore, scientific fun facts and more. MySky can identify and guide you any object in the night sky, all you have to do is follow the on screen arrow, which points you in the right direction.
If you already have a computerised Meade GoTo telescope you can buy a separate cable to link up the MySky to your telescope. Then when you point your MySky in a particular direction your telescope will follow you and point at the object. The telescope will also use the GPS functionality in the MySky.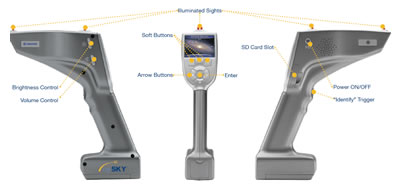 Buy MySky Online
You can buy MySky from The Science Museum Store for £196
The Science Museum also include free batteries, so you can use the MySky straight out of the box.