Meade DS2090AT Telescope Review
"The DS-2090 is a fully GoTo telescope. It's onboard computer knows the night sky. After a short alignment procedure, your telescope will be ready to take you on a tour of the universe. You will see more objects in one night than Galileo saw in a lifetime. See planets like Saturn and Jupiter, star clusters, nebulae, galaxies and more".
Well that's what it says on the Meade web site. The DS series is a new style telescope from Meade in late 2007. I thing I like most about the DS2090 is that it is a GoTo telescope which can find everything for you in the nights sky and it only costs less than £250.
I have had both a manual reflector and a GoTo telescope, now I know some of the fun is discovering the night sky, but after a while I thought hang on, everything has been discovered I just want to see them and not spend all night long searching for something and then after I have found the object, I have to manually track it myself, whereas the Meade DS2090 will do this for you.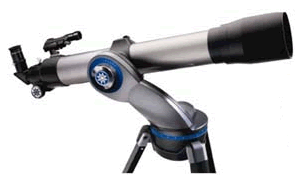 The DS2090 also looks good with it being silver and blue, it also is the classic telescope shape that you think of, more formerly known as a refractor.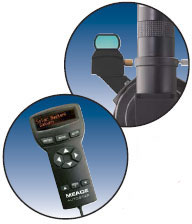 The Meade DS2090 also comes with a red dot finder which is really useful at showing you exactly where you are pointing the telescope. The Meade DS2090 also comes with 2 eyepieces of varying magnification so you can can get the best out of the scope on the first night, but if you it from the Science Museum store they will give you 5 eyepieces in a case.
Buy Meade DS2090 Telescope and get 5 Free eyepieces.
The Meade DS2090 telescope also has a built-in electronic level sensor, electronic magnetic north sensor, high precision internal clock which all work together to get you aligned with the heavens fast.
Meade DS2090 Features
Large 90mm diameter refractive lens to capture more light for brighter images and greater detail.
5 piece premium 1.25" eyepiece set with carry case. For superior long eye relief and an expansive wide visual field.
Red-dot projection viewfinder for easy acquisition of guide stars while star-hoping between celestial targets.
AutoStar Suite ™ Astronomer Edition. Planetarium software and instructional video will teach you the night sky and how to use your telescope. It displays more than 10,000 celestial objects including planets, stars, galaxies and nebulae. Your can print out star charts and even plan your observing sessions. It operates on any Windows based PC.
Assembles in minutes.
Includes full length adjustable aluminium tripod.