Astronaut Loses Tool Bag on Space Station
Posted on:
November 19, 2008
/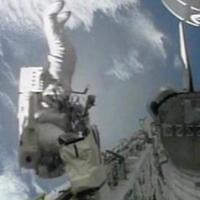 A spacewalking astronaut accidentally let go of her tool bag after a grease gun inside it exploded, and helplessly watched as it floated away with everything inside.
It was one of the largest items ever to be lost by a spacewalker, and occurred during an unprecedented attempt to clean and lube a gummed-up joint on a solar panel.
Heidemarie Stefanyshyn-Piper was just starting to work on the joint when the mishap occurred.
She said her grease gun exploded, getting the dark grey stuff all over a camera and her gloves. While wiping off herself, the white, backpack-size bag slipped out of her grip, and she lost all her other tools.
"Oh, great," she mumbled.
Ms Stefanyshyn-Piper and her fellow spacewalker, Stephen Bowen, then went on to finish their tasks in six hours and 52 minutes by sharing tools.
Mr Bowen had his own tool bag with another grease gun, putty knife and oven-like terry cloth mitts to wipe away metal grit from a clogged joint at the space station.
"Despite my little hiccup, or major hiccup, I think we did a good job out there," Ms Stefanyshyn-Piper said after returning to the space station.
Flight controllers were assessing the impact the lost bag would have on the next three planned spacewalks.
Earlier, the spacewalkers spotted a screw floating by, but were too far away to catch it. "I have no idea where it came from," Ms Stefanyshyn-Piper told Mission Control.
So, look out for a NASA toolbag landing in your backgarden soon! No, not really I think it will burn up in the atmosphere or actually stay in orbit forever!