Mars Observers Guide Book Review
Posted on:
February 11, 2008
/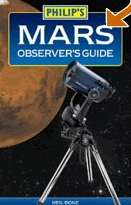 This version of the Mars Observer's Guide was published in 2003.  It is one of the pocket sized Philip's books which retails at under £10.
Mars Observer's Guide contains a lot of full colour pictures and diagrams all of which are very high quality images. The book begins by looking at the main features of Mars, Martian geology and the seasons of Mars.
There is then a chapter on telescope equipment that can be used to view Mars. It discusses the advantages and disadvantages of refractors, reflectors and catadioptrics.  The rest of the chapter then takes a look at eyepieces, filters and mounts.
There is a small section about the photography of Mars and CCD imaging. A larger section is dedicated to sketching Mars, with lots of help and advice on drawing Mars.
The following three chapters cover what's happening at Mars in 2003, 2005 and 2007-08, such as highlights of the year, and apparition timetables.  Obviously this book is re-published every few years in order to bring it up to date, so make sure you purchase the latest copy so you have information on Mars to last you the next few years.
At the end of the book there is information about the history of Mars and the influential observers of Mars.  There is then information on all of the space missions to Mars including satellites and Mars landers.
Overall the Mars Observer's Guide is a useful pocket guide which includes a great deal of useful information about the red planet for education and observers.