Finding a Million Star Hotel Book Review
Posted on:
April 23, 2018
/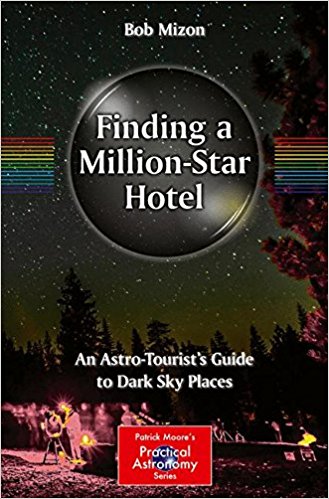 Finding a million star hotel – An Astro-Tourist's Guide to Dark Sky Places written by Bob Mizon.
The main body of the book is about various locations from which to stargaze around the world. This section is broken down into the US, England, Europe and the odd country outside Europe like Iceland. Each location has some useful information about it and some web links to learn more about the location and it's accommodation.
Much more than a travel guide
But please don't think this book is just about hotel listings or where to camp around the world. There is much more to this book than that. Less than half of the book, around 120 pages is given up to discussing the best places in the UK, Europe and US to stargaze.
Included in the book are also details on what defines a dark sky site, what to observe when which includes the planets, galaxies, nebulae and some very nice easy to read constellation diagrams. There is also a section on how to view the Sun safely.
Of the 8 chapters in the book chapter 5 covers the great solar eclipse of 2017, but you also get globe maps showing the best locations to view subsequent solar eclipses all the way to the year 2026.
As an addition there is also a small chapter entitled 'The Star Hunter's Kit' which briefly discusses the sort of binoculars or telescope magnification you may require.
Many Appendices
The "Finding a million star hotel" book contains a lot of appendices – 9 to be exact. There is a list of the International Dark Sky Places, UK Dark Sky Discovery Sites, a report of the royal commission on environmental pollution, 100 places in the US to see the 2017 Solar Eclipse, a further information section, a glossary of astronomy terms, a glossary of light pollution terms and details about the Bortle scale and SQM readings.
Overall thoughts…
So, all in all something for everybody. Information on what a dark sky really is, where to find them, what to take with you and how and what to observe when you get there. Perfect.
But one of the best things about "Finding a million star hotel" is that it's really nice to see full colour images for a change throughout this book, instead of those horrible black and white images that are all too familiar in a lot of astronomy books.
Where can I buy Finding a Million Star Hotel Book?
You can buy Finding a Million Star Hotel from Amazon UK